I've been keeping myself busy lately, what with the constant rain. I finished the tank top (or vest, whichever you prefer) I was working on. Since it is winter I popped it on over a shirt, so I wouldn't freeze!I think it actually looks better over a shirt.
FYI my almost-5-year-old took this picture!
After I finished the top, I went a little head band crazy Here are a few things I've been working on:
cable head band


cable head band in blue
I knit the pink and blue bands flat and seamed them together, but I am going to have a think about knitting them in the round because the seam bothers me a little bit. It doesn't bother the girls at all though, and that's the main thing.
After I made the cable hair bands, I thought I would try a flower one. I made the flower out of i-cord and the band is just moss stitch knit in the round. Next time I really need to switch to a bigger needle when casting off, because I feel it was too tight. Again, the girls didn't seem to mind, but since I have to make another one (the joy of twins!) I'll see if I can't do better.
a model I can work with
Feel the love for Creative/Fiber Blog hops: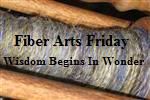 Sunday Hops